Dinner Menu
Feed the entire family for only....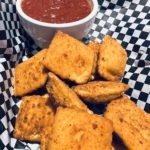 A generous portion of crisp fried cheese-filled ravioli with a side of house-made marinara.
$9.5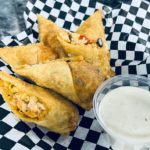 Three chicken, black bean, corn, and spinach egg rolls served with ranch dip.
$9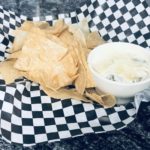 Creamy spinach and artichoke served with chips and topped with shaved parmesan.
$9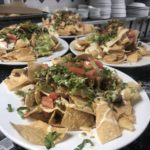 White corn tortilla chips topped with creamy queso blanco, lettuce and tomatoes * Spicy hot chicken, seasoned ground beef, or veggie crumbles. *$11
$9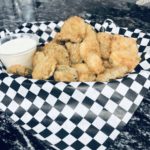 Light and crispy, battered and fried fresh, never frozen pickle chips served with ranch dressing.
$8
Battered, fried fresh button mushrooms, served with our special dipping sauce.
$8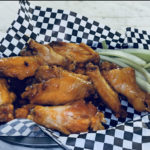 Twelve or six traditional or smoked jumbo wings tossed in your choice of sauce: mild, medium, hot wing sauce, garlic parmesan, tropical rum, or mango habanero.
$14/$9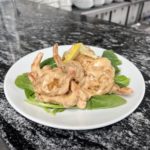 Diced chicken tenders or shrimp battered, fried and tossed in spicy bang bang sauce.
$12/$15
8oz filet wrapped with a savory strip of bacon.
$49
Hand-cut Black Angus beef.
$29/$22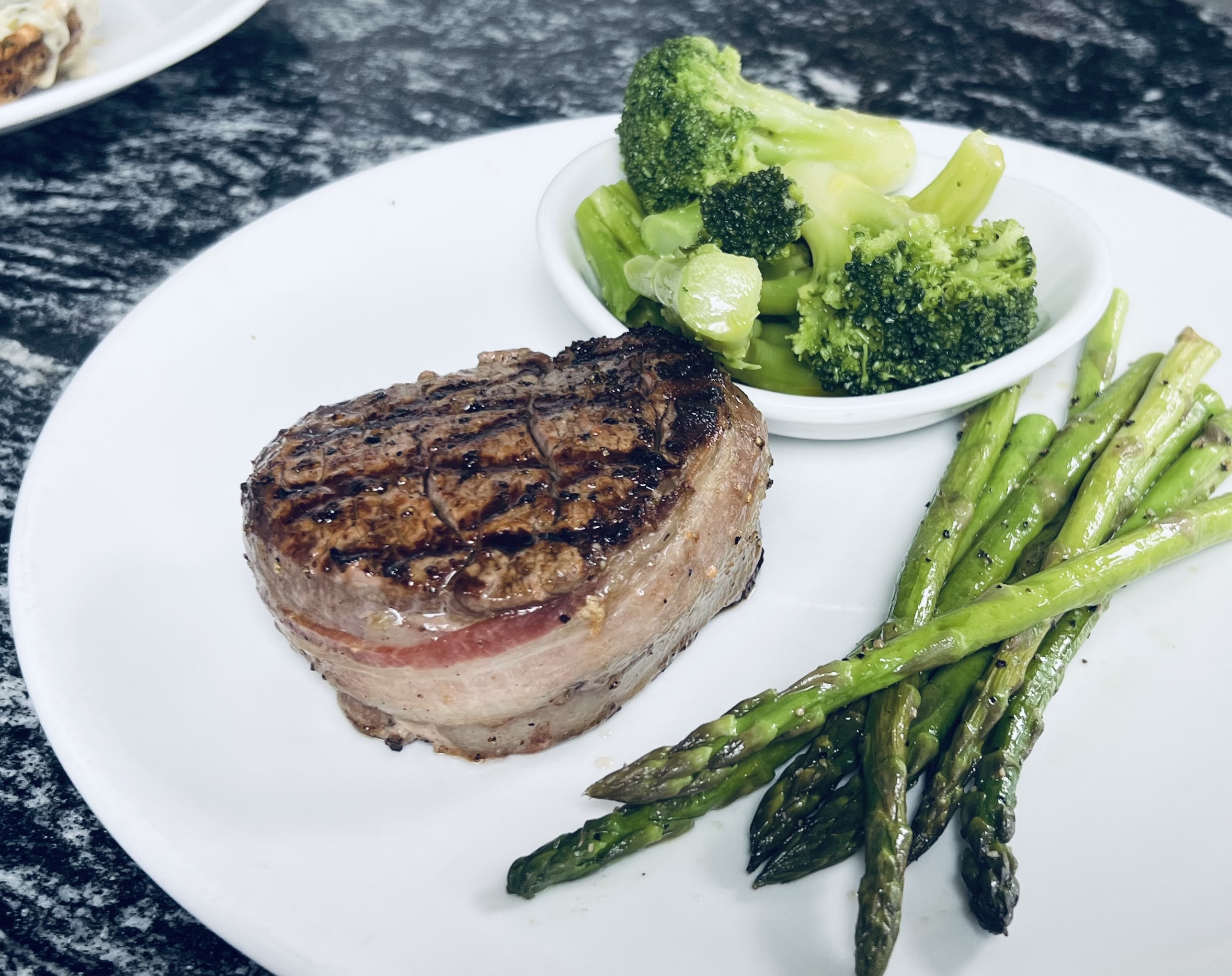 Served with two salads and two sides.
$100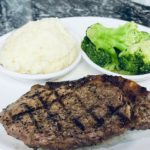 Tender black angus beef.
$38
Sauteed onions, mushrooms, and/or peppers $1, Blue Cheese Crumbles $2 Parmesan cream sauce and panko crusted $3, Top with spinach artichoke cream sauce $3.5, Surf & Turf ( 6 grilled or fried shrimp ) $9.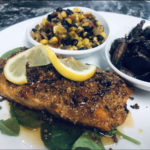 Broiled Atlantic salmon with sweet Carribean glaze topped with a zesty gluten-free panko topping.
$23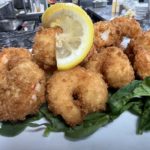 Twelve grilled OR lightly battered and fried shrimp served with cocktail sauce and lemon.
$20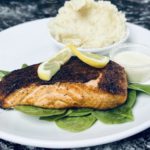 Atlantic salmon filet broiled and lightly seasoned OR blackened with lemon cream sauce.
$22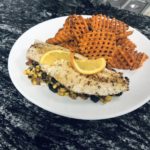 Seared red snapper in a tequila orange glaze.
$21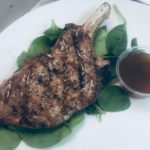 Juicy tenderloin bone-in pork chop served on a bed of spinach.
$18
Juicy 8oz all white meat chicken breast seasoned with cajun, teriyaki, or lemon pepper.
16
A generous portion of plant-based chicken bites.
$19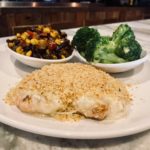 Grilled chicken breast topped with our own Parmesan cream sauce and fresh mozzarella cheese, ten crusted with panko.
$18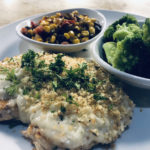 Grilled chicken breast smothered in our house-made spinach artichoke cream sauce.
$19
Two or three fried tenders or flame grilled served with your choice of dipping sauce.
$13/$16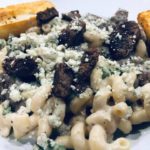 6oz of fresh cut Angus steak tips served over cavatappi pasta with our house made creamy Alfredo, asparagus, and Gorgonzola crumbles.
$23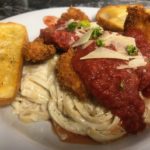 Parmesan encrusted chicken served over fettuccine Alfredo covered in house marinara sauce * plant - based chicken option available.
$18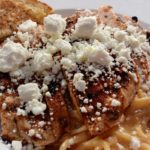 Spicy feta cheese sauce served over fettuccine. *add chicken $5, shrimp $7, salmon $10, plant based chicken $5.
$14
Cavatappi pasta simmered in a smooth, spicy cream sauce with fresh spinach and tomatoes. * add chicken $5, shrimp $7, salmon $10, plant based chicken $5.
$14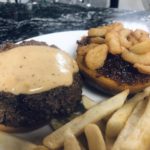 This burger will slap you in the face with flavor. Soft beer cheese spread, sweet bacon jam, and crispy onion straws set this burger over the top.
$17
Basted in locally distilled whiskey, sauteed onions, and swiss cheese. Veggie burger available.
$15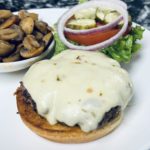 Traditional house burger with choice of cheese ( American, cheddar, pepper jack, or Swiss ) and toppings ( lettuce, onion, pickle, or tomato ). Add bacon $1. Veggie burger available.
$14
Shaved black angus beef, swiss cheese on a toasted roll and a side of au jus ... creamy horseradish sauce available upon request.
$16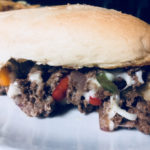 Shaved serloin on a toasted roll topped with mozarella cheese, sauteed peppers, and onions.
$16
ALL OF OUR HAMBURGERS ARE MADE
WITH LOCALLY SOURCED, FREE RANGE,
GRASS FED, USDA ANGUS BEEF FROM
FARMINGTON ANGUS.
Crispy romaine lettuce with creamy Ceaser dressing, shaved parmesan and crutons. * add cajun chicken $5, shrimp $7, steak $10, or salmon $10.
$11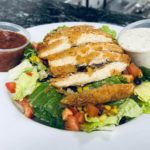 Plant based chicken served on top fresh chopped romaine, fire roasted corn, sauteed onions, pablano peppers, black beans, diced roma tomatoes, salsa and plant-based ranch.
$18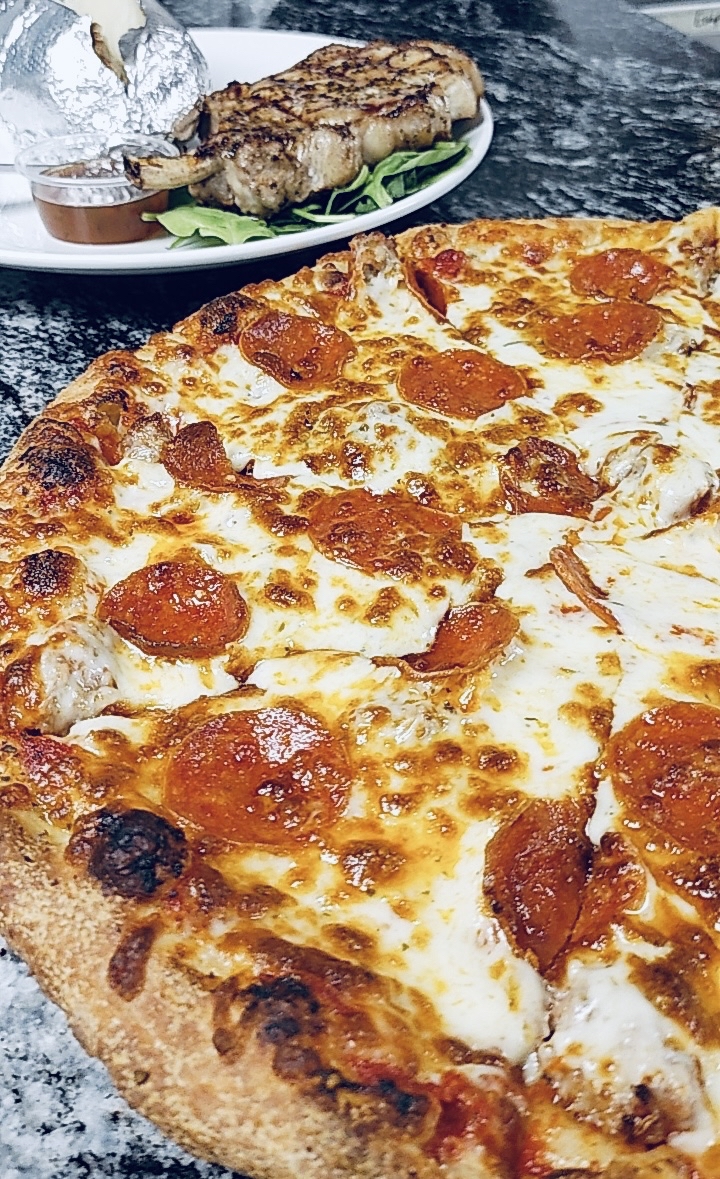 9inch $10, 14 inch $15 TOPPINGS : green peppers, olives, jalapenos, tomatoes, minced garlic, onions, mushrooms, banana peppers, spinach, sausage, bacon, ground beef, chicken, pepperoni, feta, and shaved sirloin. Prices may vary by size and type of topping.
$10/$14
Pepperoni, italian sausage, green peppers, mushrooms, onions, and black olives.
$17/$22
Sliced mushrooms, onions, peppers, and thin-shaved sirloin.
$18/$23
Black olives, tomatoes, mushrooms, onions, and peppers.
$14.5/$19/5